Weight loss is never easy. Oswego Health's bariatric surgery program at the Center for Weight Loss & Surgery can lead you on a successful journey, enabling you to embrace the healthier lifestyle you desire.
Nationally recognized as a MBSAQIP-Accredited Center, according to national quality standards established to deliver safe, high-quality metabolic and bariatric patient care, our comprehensive and personalized program overseen by experts in this specialized medical field provides all the steps to achieve your desired weight loss. Excellus BlueCross BlueShield recognized the Center for Weight Loss & Surgery with a Bariatric Surgery designation through the Blue Distinction® Specialty Care program.
Attend a weight loss seminar
The bariatric program starts with a screening process and a physician-led education session to assist you in being successful. We will remain a part of your weight-loss team throughout your weight-loss journey, from the initial screening and education sessions to surgery and follow-up support groups.
Start your journey by registering for a FREE weight-loss seminar!
Your bariatric surgeons and weight-loss team
Oswego Health's multidisciplinary team includes three experienced physicians, a nurse practitioner, a psychologist and a dietitian.
The physicians, affiliated with Central New York Surgical Physicians, PC, are well-known in the region for helping their patients achieve their weight-loss goals.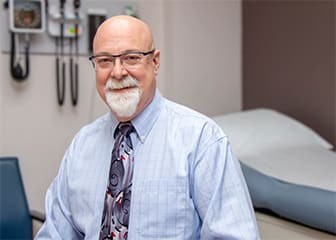 Dr. DeSimone is a board-certified diplomate by the American Board of Surgery. He earned his medical degree from Georgetown University Medical College in Washington, D.C.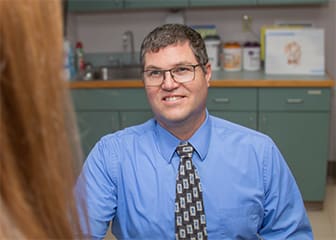 Dr. Cooper is a board-certified diplomate by the American Board of Surgery. He earned his medical degree from the University of New England College of Osteopathic Medicine in Biddeford, Maine.
Dr. Cooper completed his internship and residency at Upstate Medical University.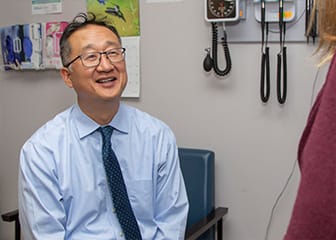 Dr. Kim is certified by the American Board of Surgery. He earned his medical degree and completed his general surgery residency at the State University of New York Health Science Center at Syracuse. Dr. Kim completed his fellowship of minimally invasive surgery at SUNY Upstate Medical University.
Bariatric surgery procedures
Our bariatric surgeons perform laparoscopic sleeve gastrectomies, where 75% of the stomach is removed and takes on the shape of a sleeve. This is a minimally invasive surgery.
They also perform the roux-en-y gastric bypass surgery, where a very small stomach is created during surgery.
Patients who undergo this procedure may be hospitalized for several days but can lose about 65 to 70% of their excess weight on average within 18 months of surgery.
Continued support after bariatric surgery
Following surgery, we're just a phone call away! To assist you as you recover, our bariatric support group meets the first and third Thursday. We welcome current patients, family members, and anyone who has undergone or is considering weight-loss surgery.
To learn more about the bariatric program, please call 315.349.5822.