Having a doctor matters, so to assist those who use our mental health services to become healthier overall, we offer primary care services right at the Lakeview Center for Mental Health and Wellness.
Primary care includes health promotion, disease prevention, health maintenance, counseling, patient education, and diagnosis and treatment of acute and chronic illnesses.
By regularly seeing a primary care practitioner, you can identify and control health risk factors before they become problems. Your primary care practitioner encourages you to take charge of your health and is a trusted partner for that care.
For appointments, please call 315.326.3536.
Provider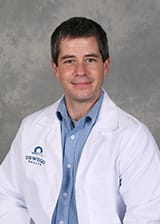 Licensed in 2010 as a registered nurse, Nathaniel Farden, NP, earned his BSN in 2012 from Western University. Farden joined Oswego Health as an RN in the emergency department in 2015, then later transitioned as a utilization RN in case management in 2016 while continuing his schooling. In 2019, Farden received licensure as a family nurse practitioner and has been working per diem with the Oswego Health hospitalist team as an NP.