Lakeshore ENT offers the highest standard of otolaryngology and facial plastic surgery care in a comfortable and professional environment. The board-certified team of Nicholas Groch, DO, and Melanie Groch, DO, leads a well-qualified staff to provide the exceptional ear, nose and throat care for patients from young children to the elderly.
Areas of Specialty
Allergy testing and treatment
Chronic ear and mastoid disease
Hearing loss
Pediatric ear infections
Dizziness
Sinusitis of adults and children
Sinus surgery
Nasal obstruction and allergy
Snoring and sleep apnea
Tonsil and throat illness
Voice and swallowing problems
Thyroid and parathyroid disease
Thyroidectomies
Facial plastic surgery and skin cancer treatments
For complete guide on how to prepare for your surgery at Oswego Health, you can download our Surgery Center Guide here.
Providers
Board-certified otolaryngologist Melanie Groch, DO, earned her bachelor's degree as well as her doctor of osteopathic medicine degree at Michigan State University. The East Lansing-based college is where she also completed her internship. Dr. Groch fulfilled her residency in otolaryngology and head and neck/facial plastic surgery at Metropolitan Hospital in Grand Rapids, Michigan.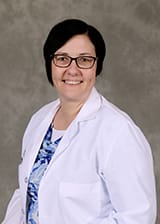 Sariah Hendrick-Attari, PA obtained her bachelors degree from the University of Missouri at Kansas City followed by her physician assistant degree from Le Moyne College.