Oswego Health's Center for Orthopedic Care Continues to Expand Access to Care for Oswego County - Recruits Experienced Orthopedic PA and Nurse Practitioner
Hospital news
|
Thursday, August 13, 2020
Contact: Jamie Leszczynski
(Oswego, NY – August 13, 2020) Oswego Health welcomes experienced orthopedic physician assistant, Brandon Weaver, PA and nurse practitioner Shannon Zinn FNP to the Center for Orthopedic Care team where they will practice with experienced and talented orthopedic surgeons John Ayres, MD, Michael Diaz, DO, and Kamaljeet Banga, MD, DNB, FRCSC.
.
Brandon Weaver, PA, has been an Orthopedic Physician Assistant for the past 7 years with 18 years' experience as a Physician Assistant, with his most recent position being at Syracuse Orthopedic Specialists. He earned his Bachelor of Science from the Physician Assistant Program at the Rochester Institute of Technology RIT in 2002. When he's not in the office seeing patients or assisting in surgery, you can find Weaver on the lacrosse field as he currently is the assistant varsity coach in Fulton.
.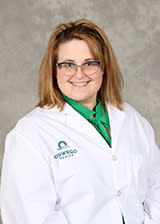 Shannon Zinn, FNP, brings an extensive skillset to Oswego Health. Zinn began her medical career in 1998 as a registered nurse in the operation room and on the medical/surgical unit at Robert Packer Hospital. After several per diem positions in various CNY health systems, Zinn made her way into orthopedics in 2008. Her most recent position was an NP at Syracuse Orthopedic Specialists where she was responsible for evaluating, treating, and implementing plans of care for clinic patients. Zinn earned her master's degree from Binghamton University in 2008 and her RNFA Certification in 2013 from the National Institute of First Assisting.