Oswego Health Promotes Two RNs to Leadership Positions
Corporate news
|
Friday, October 23, 2020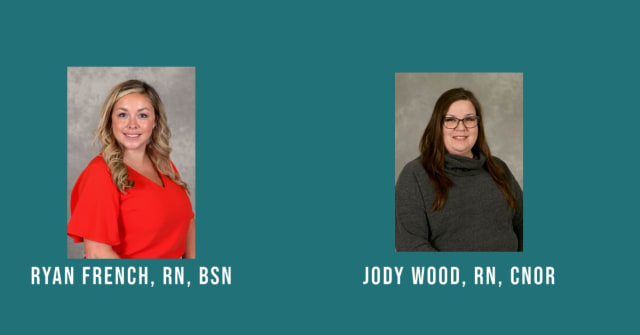 Contact: Jamie Leszczynski
Oswego Health recently promoted two licensed registered nurses to significant leadership positions within the organization.
Ryan French, RN, BSN started her career at Oswego Health as a newly licensed RN in the Medical-Surgical unit in 2010. Her career quickly escalated within the organization and within one year transitioned to the Intensive Care Unit. By 2017 she was promoted to Senior RN in the Ambulatory Surgical Unit, until recently where she has been promoted and will oversee the entire Intensive Care Unit as Director of the ICU.
Jody Wood, RN, CNOR joined Oswego Health in 2005 as a Business Services Coordinator. Even though her career began in a nonclinical role, she quickly realized her passion for healthcare and in 2009 earned her AAS in Nursing from Cayuga Community College and became a licensed RN. Once licensed, Jody worked on the Medical-Surgical Unit until 2011 when she moved into an RN role in the Surgical Services Unit. In 2018 Jody was promoted to RN Educator/Staff Development on the Surgical Services unit. In February 2020, Jody was again promoted to the Director of the Operating Room and most recently was given the additional responsibilities of overseeing PACU/ASU and PAT in addition to the Operating Room and promoted once again to the Director of Surgical Services. Jody is currently taking part in the RN Tuition Assistance program as she finishes her BSN through Empire State College.
"We are fortunate to have such talented and dedicated nursing staff at Oswego Health," shared Director of Nursing, Melissa Purtell. "I am so proud of both Ryan and Jody and all of their accomplishments here at Oswego Health."