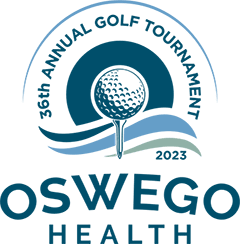 Oswego Health's Annual Golf Tournament offers players an option to play and win prizes in either the Competitive or Non-Competitive
Division. 
As a nonprofit community healthcare system, Oswego Health counts on additional support from generous donors to help deliver outstanding medical care throughout Oswego County.
Embarking on its 36th year, proceeds from the annual Oswego Health golf tournament are used to directly impact patient care and ensure exceptional healthcare services are offered in the community. In 2022, the tournament raised over $147,000 for the healthcare system.
Join us Monday, June 5th for the 36th Annual Golf Tournament at the beautiful Oswego Country Club! 
Registration - 9:00 a.m. - 9:45 a.m.
Breakfast - 9:00 a.m. - 10:00 a.m.
Shotgun Start - 10:00 a.m.
Cocktail Hour - 4:00 p.m. - 5:00 p.m.
Awards Dinner - 5:00 p.m. 
Registration deadline: May 19, 2023
Area businesses or community members interested in participating in this year's tournament should contact the Oswego Health Foundation at 315-326-3788.
We are truly grateful for the support of our 2023 sponsors.
Presenting Sponsor
The Hayner Hoyt Corporation
Double Eagle Premier Sponsor
Barclay Damon, LLP
Corporate Sponsors
King + King Architects
Kopp Billing Agency, Inc.
SCP Health
Cart Sponsors
Titan Medical Group
Lunch Sponsor
BPAS
Cocktail Hour Sponsor
Engie Resources
Clubhouse Sponsors
Commercial Investigations
Excellus BlueCross BlueShield
Step One Creative
Oswego Health Foundation Golf Commitee Members
Bill Blum, Pete Cullinan - chair, Laura Denny, Kristen DeSantis, Pete Donovan, Lynne Eggert, Craig Fitzpatrick, Terri Hammill, Linda Krackehl, Mark Masuicca, Keri Parker, Dawn Smith and John VanWert.