The Employee Giving Campaign is funded by Oswego Health employees. Join us in keeping our community healthy by making a gift to your employee giving campaign.

YOUR GIFT MATTERS!
No gift is too small - it is the pride you gain from giving. Every donation, no matter what size, makes an impact.
IT'S EASY TO GIVE.
Contributions can be made as a one-time gift or recurring gift. All donations to We are the First Step can be made through payroll deduction, credit card, check or cash.
PAYROLL DEDUCTION: Please complete the payroll deduction form and return it to the Foundation Office or email to: foundation@oswegohealth.org.
Gifts through payroll deduction can be one-time or recurring for the effective year. Forms must be completed each calendar year to continue.

ONLINE: You may also donate by credit card or debit card through our secure website. You can make a one-time gift or set up monthly giving.
CHECK/CASH: Please stop by the Foundation office at 127 W 6th St across from the hospital or you can leave at the switchboard in the hospital lobby. Attention: Oswego Health Foundation
QUESTIONS: Please contact the Foundation Office at 315-326-3473.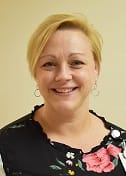 As a 25 year employee, I have watched our services grow exponentially throughout the years. The variety of services we now offer to the patients, along with the multitude of locations available to them, shows the commitment Oswego Health has in providing the best health care locally. Participating in the Oswego Health Employee Giving Campaign allows me to be a front line supporter to this growth and assist in funding projects, and purchasing items that are geared toward providing excellent care to the patient right at home.
Nancy Blais, Laboratory Support Services Supervisor