Oswego Health was founded in 1881, nearly 140 years ago, when a group of community minded residents gathered for the specific purpose of starting a hospital. A look back to the initial board minutes reveals that the founders had concerns not unlike those in healthcare today.
They wanted to provide care to all residents, regardless of income and other factors. They desired a location that people could easily access and, of course, wanted their facility to have the best physicians and most modern technology.
Since that initial hospital meeting held in 1881, the organization has evolved into the Oswego Health system, which has become both a pillar and an economic engine of the community. Not only is Oswego Health recognized for the exceptional, high-quality care it provides, in 2018, our economic impact on the area was a significant --$202 million, which helps keep our community viable.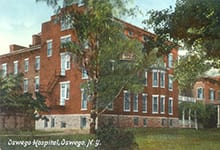 Part of Oswego Health's growth into a successful health system included recognizing the importance of expanding local senior services. One being The Manor at Seneca Hill, which provides 24-hour skilled nursing, rehabilitation services, and an Adult Day Health Services Program. Our second initiative, Springside at Seneca Hill, allows seniors to enjoy a carefree, easy lifestyle in a premier retirement community.
With the construction complete of these two facilities, Oswego Health returned to update its cornerstone, Oswego Hospital. With the help of many residents, businesses and companies who participated in a capital campaign that raised millions of dollars, we completely renovated several key hospital departments. The list includes the surgery center, maternity center, intensive care unit, cafeteria, snack bar/gift shop, pharmacy and a much more welcoming main entrance. These projects transformed Oswego Hospital into an attractive and well-built facility in which to receive exceptional medical care.
A follow-up renovation project modernized the hospital's Emergency Department to include the latest technology and several trauma bays. The ED is our window on the community, delivering care to more than 25,000 patients each year.
Through the years as our community changed, so did the health system. In 2006, Oswego Health introduced a completely new service to Oswego County: urgent care services. As Fulton's A.L. Lee Memorial Hospital closed, the NYS Department of Health turned to Oswego Health, providing more than $22 million in state funds, to support a major renovation project leading to the opening of the Fulton Medical Center in 2011.
A year later, the health system was recognized as Oswego County's healthcare leader when the state Health Department turned to Oswego Health once again to develop services in Central Square. After yet another major construction project, we unveiled the Central Square Medical Center, offering urgent care, lab and medical imaging services.
Just as physicians were embracing a new business model, Oswego Health was proactive and developed Physician Care P.C. a multi-specialty medical group offering the community accessible, high quality medical care. Since its inception in 2013, Physician Care P.C. has added cardiology, bariatrics, ENT, general surgery, orthopedics, colon & rectal, gastroenterology, urology and primary care. Physician Care P.C. allows these contracted physicians to focus on the delivery of care, while the health system oversees all business and administrative tasks.
Of course this year has brought more positive change for the health system as we embark on two major projects, almost at the same time. With the construction of our new Behavioral Health Services facility at the former Oswego Price Chopper building, we are transforming the way behavioral health services are delivered as we integrate primary care services and construct a building offering many patient comforts. We are pleased to know that our new site will likely become a model for similar facilities across the country.
Our second project is the complete transformation of the hospital's third and fourth floors to offer private rooms, with a hotel-like feel. The rooms will feature their own bathrooms and other comforts, as will the two floors with areas for both staff and families. While the staff already provides exceptional care, our new medical/surgical floors will reduce the chance of infection and promote a quicker recovery.
Oswego Health has always been on the forefront of adding services needed by our community since 1881, ensuring the best care is available locally. Just as it has for its first 138 years, the health system will continue to develop innovative and high-quality programs that improve the health of area residents. Right at Home.