Vice President & Administrator of Oswego Health Home Care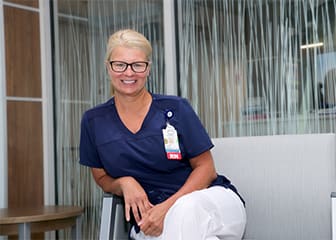 As the Vice President & Administrator of Oswego Health Home Care, Val is responsible for the overall operations, quality, and management of Oswego Health Home Care. She serves as a liaison between professional services staff and referral sources, as well as supports the agency management and staff.
Val has been a Registered Nurse, serving in various clinical and leadership roles throughout Central New York caring for countless patients. Her career began in 1993 in our Medical Surgical Unit, where she worked until 1995 before beginning a 13-year journey in the home healthcare field transferring to the Oswego County Health Department as a Supervising Public Health Nurse for their homecare agency. In 2004 she took on the role of Area Director for Gentiva Health Services and served in that role until 2007 before transitioning to the Homecare Director for Franciscan Health Support. In 2008 we were fortunate to have Val return "home" to her Oswego Health family where she's remained ever since, serving as Associate Administrator for Nursing from 2008-2011, before earning the title of Chief Nursing Officer in 2011.
Since 2008, Val has been a true leader for our 400+ clinical directors, nurses, nurse assistants and technicians, respiratory therapists, and social workers