Vice President of Quality Care & Safety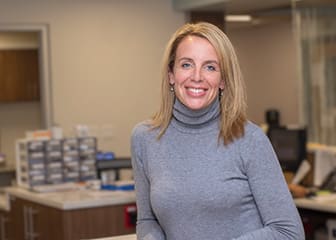 As Vice President of Quality Care & Safety, Theresa Fitzgibbons, RN has direct oversight over the health system's patient safety and quality initiatives, ensuring consistency and standards are met throughout all seventeen campuses.
Theresa joined Oswego Health in 2007 as an RN in the Intensive Care Unit. Her career has escalated over the years as her passion for patient care and quality has not gone unnoticed. She's held positions varying from providing primary care in Mexico, to a Case Manager in the hospital, Clinical Documentation Specialist, to Director of Quality & Patient Safety in 2020.
In addition to her responsibilities at Oswego Health, Theresa serves on the Oswego Health Home Care Board of Directors and the Oswego County Transportation Advisory Committee.