President
Chief Executive Officer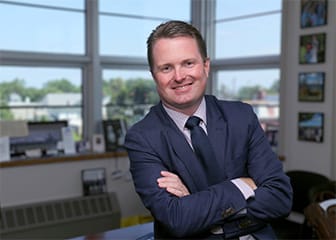 Michael C. Backus joined Oswego Health in September 2020 as Chief Operating Officer and Executive Vice President. In January of 2023, Mike was elevated to the role of President and Chief Executive Officer upon appointment by the Oswego Health Board of Directors.
A lifelong resident of Oswego County, Mike is no stranger to the organization or healthcare as he previously served on the Oswego Health Board of Directors between 2016 -2020, along with the Board of Directors of ConnextCare. Public service has always been an important part of Mike's life and as part of his service to ConnextCare, he served on the credentials and legislative committees for the National Association of Community Health Centers.
Professionally before joining Oswego Health, Mike served in elected office, which has proven beneficial for the health system. He is the Oswego Health conduit to governmental agencies, public officials, and our overall community to ensure resources are readily available. He also coordinates all lobbying and advocacy work on behalf of Oswego Health for future initiatives and local healthcare needs.
In just two years, Mike has proven to be an advocate for healthcare as he works with state and federal authorities to further increase access to high-quality care throughout Central New York, including strategic infrastructure planning for the region.
As an emerging healthcare leader, Mike is a part of the American Hospital Association NextGen Fellowship Program and serves on the Board of Directors for the Healthcare Association of New York State (HANYS).
Leadership Greater Syracuse recognized Mike in 2012 as a Certified Community Leader. He also has been recognized by several regional and statewide publications as a 40-Under-40 "Rising Star," by the Central New York Business Journal and the Albany-based City & State Magazine. In 2018, Backus was awarded the inaugural "Friend of the First" award by The Palladium-Times.
He holds a master's degree in public administration, along with a Bachelor of Arts degree from Le Moyne College, where he is also a member of the Board of Regents.
As President & CEO, Mike believes strongly in servant leadership and ensuring that decisions are made in a collaborative, communicative environment where every teammate feels valued. He looks forward to transforming the healthcare landscape throughout Central New York one conversation at a time.