Vice President of Human Resources
Chief People Officer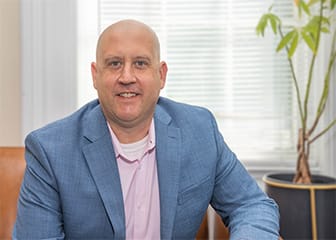 With over 20 years of experience across multiple service-focused industries in all areas of human resources, including organizational development, identifying organizational-wide engagement opportunities, and building strong human resource partnerships at all levels among the many departments throughout an organization, Marquand "Marq" Brown is the Vice President of Human Resources & Chief People Officer.
Marq started at Oswego Health in 2018 and recognizes the evolving needs of the organization from overall talent recruitment and retention perspective. He leads a team that is instrumental in ensuring Oswego Health keeps the work/life balance for all 1,200+ employees front and center.
In addition to his responsibilities within the healthcare system, Marq is very involved in the community. He serves as Board Chair for Workforce Development of Oswego County and sits on the Business Development Committee to help align talent, education, and employers across Oswego County. He also serves on Operation Oswego County's Stakeholder Engagement Committee.
He graduated from the Mansfield University of Pennsylvania. He has earned certification as a Senior Professional in Human Resources from the Human Resources Certification Institute and a Senior Certified Professional by the Society for Human Resource Management.