Executive Vice President
Chief Financial Officer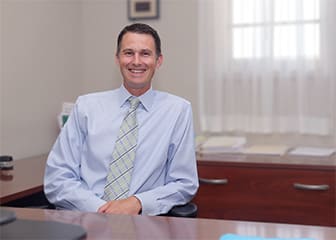 As Executive Vice President of Finance & Chief Financial Officer, Eric Campbell has oversight of financial reporting, regulatory reporting, financial analysis, budget, materials management, revenue cycle, health information management, and compliance. He initially joined Oswego Health as Oswego Hospital's Chief Financial Officer in December 2010 before becoming Chief Financial Officer for Oswego Health in 2016.
After graduating from George Mason University, Eric became a certified public accountant and worked for eight years with Fust Charles Chambers LLP. In the fall of 2015, he completed the Cornell University/ Healthcare Association of New York (HANYS) Academy for Leadership Advancement.
Eric currently serves as Board Chair of United Iroquois Share Services. He is also a member of the Finance Committees for ConnextCare and Oswego County Integrated Delivery Network. Eric is also a member of the Healthcare Financial Management Association.
In his spare time, he enjoys coaching youth basketball for St. Paul's Leprechaun League and Oswego Youth Basketball Association.