Vice President of Information Systems
Chief Information Officer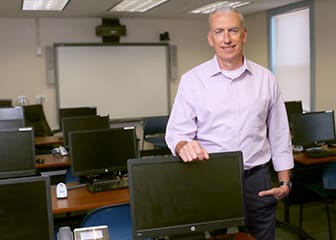 Barry Ryle has over fifteen years of experience in healthcare IT management in both the public and private sectors and originally joined Oswego Health in 2011 as Chief Information Officer.
As Vice President of Information Systems & Chief Information Officer, Barry oversees all voice and data operations for the health system, from strategic planning and implementation to information security and system deployment. Among his responsibilities is ensuring the 1,200+ staff members of Oswego Health possess the technology and skills necessary to accomplish our mission of providing accessible, quality care as efficiently and effectively as possible.
A 21-year U.S. Army veteran, Barry has served in many capacities, including a rotor-wing pilot, instructor pilot, company commander, and information management officer, retiring in 2008 as a Major (O-4).
Barry earned his Bachelor of Science degree from Excelsior College in Albany, his master's degree in Business Administration from SUNY Polytechnic Institute in Utica, and a graduate certificate in Cybersecurity from SANS Technology Institute in North Bethesda, Maryland.