Vice President of Human Resources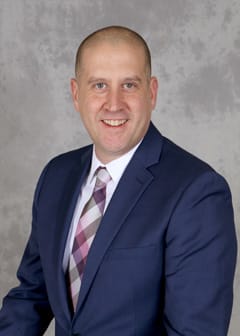 Marquand "Marq" Brown is Oswego Health's Vice President of Human Resources. Brown has over 20 years of experience in all areas of human resources, including staff development, attaining organizational-wide engagement opportunities, and building strong human resource partnerships among the many departments within an organization.
He previously worked as Director of Human Resources at Newrez, a national mortgage lender and servicing organization, licensed to lend in 49 states with more than 130 offices across the country. Much of his human resource career was spent at StoneMor, and at the time of his departure from the organization, it was the second-largest network of cemeteries and funeral homes in the United States, where he helped build the human resources department from three to 23 staff members. Both companies are based in neighboring Pennsylvania.
Brown started at Oswego Health in 2018 and has been very involved in the community. He serves as Board Chair for Workforce Development of Oswego County as well as sits on the Business Development Committee to help align talent, education and employers across Oswego County. He also serves on Operation Oswego County's Stakeholder Engagement Committee.
Brown graduated from Mansfield University of Pennsylvania. He has earned the rigorous certification as a Senior Professional in Human Resources by the Human Resources Certification Institute and a Senior Certified Professional by the Society for Human Resource Management.