Chief Medical Officer and President of Physician Care, PC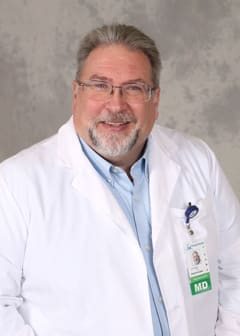 Duane Tull, MD, FACS, has been with Oswego Health since 2018 and is currently the health system's Chief Medical Officer. With over 20 years of surgical experience, Dr. Tull is one of the general surgeons at Surgical Associates, based in Seneca Hill Health Services Center.
In addition to serving as the Chief Medical Officer, Dr. Tull is also the President of Physician Care, PC which is a multispecialty medical group offering the community accessible, high-quality medical care. Physician Care, PC consists of primary care, medical specialists and surgical specialists who maintain an affiliation and presence with Oswego Hospital.
Dr. Tull earned his bachelor's degree from Hampden-Sydney College and his Doctor of Medicine from Eastern Virginia Medical School. He then completed both his general surgical internship and residency at the Christiana Care Health System in Wilmington, Delaware. Continuing his education and training, Tull recently completed the Yale School of Management Executive Education course in Healthcare Management in 2020 and HANYS-Cornell Academy for Healthcare Leadership Advancement program in 2021. Most recently, he is enrolled at the University Of Tennessee Knoxville Haslam College Of Business for his Executive MBA and anticipates graduating in December 2023.